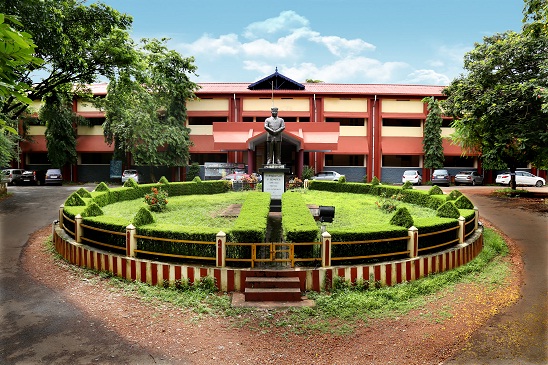 The Aryavaidya Patasala was started in the year 1917 at Calicut by Late Vaidyaratnam P.S.Varier, the founder of Arya Vaidya Sala and was run by the Arya Vaidya Samajam, a registered society. The Patasala was financed by the Arya Vaidayasala, Kottakkal. A four years course leading to the diploma 'Arya Vaidyan' was conducted. In 1924, the Patasala was shifted to Kottakkal with a view to give practical training to the students in the Arya Vaidya Sala Charitable Hospital. The Arya Vaidyan course was abolished in the year 1958 and 'Diploma in Ayurvedic Medicine (D.A.M) course was introduced. In 1959, the Aryavaidya Patasala was upgraded as an Ayurveda College. The new course (D.A.M) was of four years duration followed by an internship training of six months.
In 1972, the Ayurveda College, Kottakkal was affiliated to the University of Calicut and a new course, Bachelor of Ayurvedic Medicine (B.A.M), was started. The B.A.M course had duration of 5 years followed by internship training for six months. The minimum qualification required for admission to the B.A.M. course was a pass in pre-degree with Physics, Chemistry and Biology as main subjects.
     In 1979-80, the Ayurvedacharya [Bachelor in Ayurvedic Medicine and Surgery] course was introduced. The B.A.M.S course has duration of 41/2 years followed by internship training for 1year. Now the College offers the Ayurvedacharya (B.A.M.S) degree course in Ayurveda of the University of Calicut. Five Ayurvedic Postgraduate courses in Mano Vijnan evum Manas Roga (Ayurvedic psychology & psychiatry), Agadatantra evum Vidhivaidyaka (Ayurvedic Forensic medicine and Toxicology), Swasthavritta(Ayurvedic Social and Preventive Medicine), Dravyagunavijnana(Ayurvedic Pharmacology) and Panchakarma are also present.
From 2010 onwards, new admissions in UG & PG courses are conducted with the affiliation of  KUHS (Kerala University of Health Sciences).
The Arya Vaidya Samajam was dissolved on 31.03.1976 and the Kerala Ayurvedic Studies and Research Society (K.A.S.R.S), a Society registered under the Societies' Registration Act, took over the administration of the College. The Governing Body of the K.A.S.R.S consists of five members of the State Government with the Health Minister as Chairman and five nominees of the Arya Vaidya  Sala. The Executive Committee of the Society consists of three members of the State Government with Secretary to Government, Dept. of Health & Family Welfare as Chairman and two members of the Arya Vaidya Sala. The day-to-day affairs of the Society are being looked after by the Executive Director and the Chief Executive Officer of the Society.